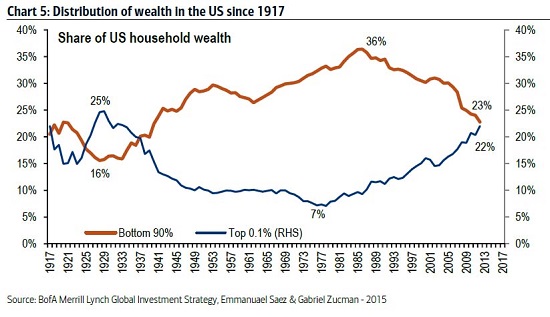 Sempre interessanti le riflessioni che fa Charles Hugh-Smith, spesso ripreso dai Tylers. Qui sopra come lo 0,1% si e sempre piu' arrichito e la classe media impoverita, negli USA, dagli anni '80 in poi.
Hugh-Smith (via Zero Hedge) - The Lesson Of Empires: Once Privilege Limits Social Mobility, Collapse Is Inevitable
(...) The natural result is frustration, anger and a disavowal of the corrupt status quo: in other words, precisely what the U.S. is experiencing in this election cycle.
People are waking up the reality that the status quo exists to protect the privileged, period. When the serfs do all the right things--get a university degree, work hard, serve their masters well, etc.--they find that "getting ahead" has been redefined as "running in place to keep from falling behind" (i.e. the Red Queen's Race).
One of my projects is to better understand what social, economic and cultural elements of empires enabled their rise and durability. I was especially interested in locating traits shared by virtually all empires that endured.
One key trait that all enduring empires shared was high levels of social mobility: in enduring empires, those of humble birth had multiple pathways to wealth, power and influence.
When social mobility is lost, all those denied access to the empire's top rungs leave for greener pastures or devote their energy and ambition to bringing the empire down.
Social mobility is only possible if merit is valued more than privilege. (...)
Dice Charles che gli imperi crollano quando potere e ricchezza si concentrano in poche mani e questa elite non molla l'osso e la mobilita' sociale si riduce drasticamente. E gli Stati Uniti secondo lui sarebbero a questo punto.