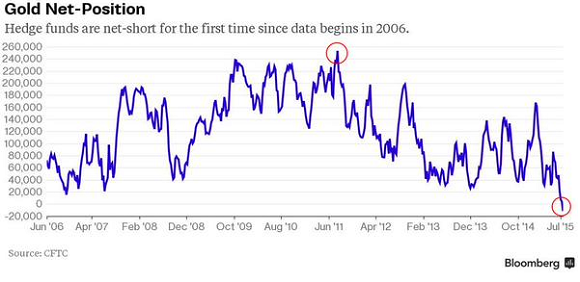 Intervista piuttosto lunga su The Gold Report con un asset manager svizzero, Florian Siegfried, in cui si parla di compagnie minerarie e soprattutto junior che potrebbero essere soggetto/oggetto di acquisizioni e fusioni. Ecco un estratto su due company quotate a NY:
TGR: What is another company worth watching?

FS: When you look for value, where do you turn? Companies that suffered dramatically in the current downturn, but generate cash flow at current metal prices, have cash in the bank and no debt.
I think one of them is Gold Resource Corp. (GORO:NYSE.MKT).
It just put out Q2/15 financials. Despite an illegal mine protest and work stoppage in May, the company earned US$9.4M in operating cash flow and is paying around a 4% dividend yield, which should be sustainable given the strong balance sheet.
It has cash in the bank. It's debt free. It has a nice, high-grade silver-gold project in Mexico and plenty of exploration potential; nevertheless, the stock is down to US$2.50/share after the company announced a decrease in metal production for the second quarter.
I think the selling is overdone. I remember in 2009 it moved from $1 or so to close to US$30/share in 2011 and it wasn't even in commercial production.
Now, Gold Resource is in production and the market cap is down to $120M, and it is still paying a dividend.
The good news is it didn't dilute all the way down. I think the sentiment there is very negative and consider the stock undervalued.



The same is true for Timmins Gold Corp. (TMM:TSX; TGD:NYSE.MKT), which just made two acquisitions in Mexico over the last eight months.
I think the market is overly concerned over whether the company has the capability to bring the two gold projects into production in the foreseeable future.
But Timmins, with its existing San Francisco mine in Mexico, financed and put this mine into production in the last down cycle in 2008 and 2009, so management has proven it knows how to execute.
The company has US$40M in net working capital and can sequence the development of the two new projects to manage the capital requirements. It is producing around 120 Koz annually. It reduced guidance a little bit, but the underlying asset portfolio has the potential to become a 300 Koz producer.
The market cap in U.S. dollars is down to $100M, which I think is ridiculously cheap. Timmins looks very undervalued, in my opinion.
Qualcuno conosce queste due compagnie, se le è studiate un po'? Secondo l'asset manager svizzero sarebbero da tenere d'occhio (insieme a diverse altre che sono quotate solo a Toronto o altrove, vedere su TGR se vi interessa.
GORO dai 2,20-2,50 di quando e' stato scritto questo post e' arrivata a dimezzare sino a 1,14 (ora a 1,57 dopo il rally dell'oro delle ultime settimane)
TGD ad agosto 2015 era gia' crollata a 0,25-0,30 ma poi e' arrivata a crollare ancora sino a 0,07 ! (ora sta a 0,16)
Totalino: Bei consigli questo The Gold Report ;)