Certo che se la settimana prossima sarà come quella appena chiusa per le borse di tutto il mondo ci sarebbe forse da essere un po' più ottimisti sui metalli preziosi e non stare troppo a preoccuparsi che le risalitine siano giù+ finite ... vediamo che si dice in giro
Jesse:
There were no gold contracts taken, and although there were 242 silver contracts stopped, customer to customer, which is much more than we have seen so far in this off month for silver, I don't see any particular significance to it. Sometimes some metals sites do go overboard with trumpeting these little jiggles. Maybe something is there, but not that we can see yet.
There was intraday commentary last night about the setup for a short squeeze in the metals titled Spec Flambe.
I do think that we will see more about this, and I will be watching the Commitments of Traders composition a bit more carefully for the next few weeks.
It is unusual for the private speculators to be so short this market, and it generally gives the commercials, the professional market makers and takers, to give them a bit of a run.
I suspect today was a lot of gold bulls taking profits ahead of the weekend. Profits have been so scarce that one can hardly blame them.
(...) Calendar for next week: GDP seem to be the biggest thing. We will have a precious metals option expiration on Wednesday the 26th which may be more of a thing for silver than for gold.
We had a nice rally off an oversold bottom this week. Follow through is everything, so eyes on next week.
It is hard to believe that the end of Summer is nearly in sight, and the harvest time. We will be reaping what we have sown soon enough.
Secondo tal Jordan Roy Byrne:
While Gold is higher today the gold miners have put in a reversal on the daily chart. It could be a signal that the rebound is losing steam.



The weekly candle charts of GDXJ and GDX remain fairly strong. Note that GDXJ came within 1% of $23 this morning. GDX has yet to reach $17 but is only down 1% today.
If Gold is going to test $1175 then GDXJ could trade up to $24 while GDX touches $17.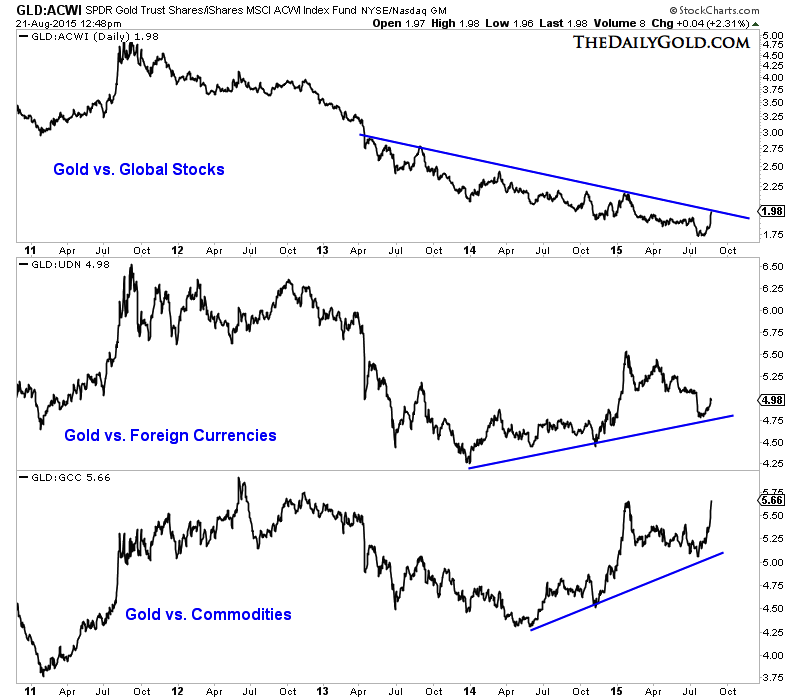 (...) The cracking of the US equity market is definitely a positive for the precious metals sector but it does not tell us if the sector has bottomed. Gold has taken out $1150/oz for now and has potential upside to $1175.
Given the strong overhead resistance we should expect a pullback or some consolidation of recent gains.
Keep an eye on the miners as they tend to lead the metals. The reversal in the miners today is an early warning signal that the rebound could be nearing its end.
e
i Tylers notano che:
Note that gold reversed today early on after touching its 100DMA... and silver reversed today to its 50DMA



.. 'sti cazzo di medie mobili